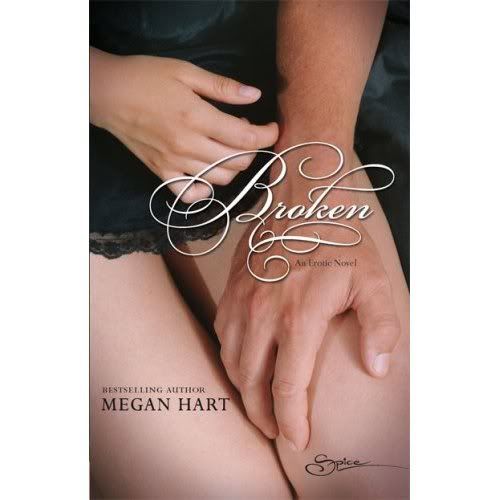 I've read romance, but hadn't tried a erotica until a friend handed me a copy of Megan Hart's
Broken
. It's part of Harlequin's new Spice line of erotic novels.
Explicit sex abounds (hello! Erotica, remember?), but the miracle is that it never grows tiresome. And part of that is the hook of the novel. Once a month, married therapist Sadie has lunch with Joe, a man she met quite by accident. And every month, Joe tells her a story about one of his sexual conquests. Sadie imagines herself as the star of each of Joe's stories, but not because she secretly wants Joe.
Sadie's husband Adam is a quadriplegic, the result of a skiing accident four years ago. While half of the book consists of Joe's erotic tales, the other half is a tender, tough, terrible, loving and heartbreaking portrait of a married couple, once wildly in love, now just struggling to survive. They alternately love each other and hate each other. The author does a wonderful job of showing Sadie's internal and external struggles, both with her husband, her job, her family, and ultimately, her lunches with Joe. Is mental infidelity still cheating?
The ending is, in a way, predicatable, but never trite or contrived. It hit me hard, and while the book might not appeal to traditional romance readers, it's a love story worth experiencing.