I can now unveil the cover for Dreg City #3, ANOTHER KIND OF DEAD. And can I just say how much I love this? I have truly been blessed with some amazingly awesome covers, and this one is no exception.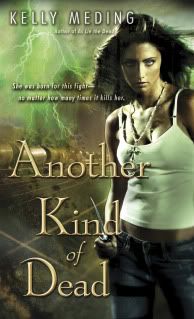 The background is a train yard, which see a little action this time around. And the super-cool lightning is a fun plot point, as well. Evy looks particularly bad-ass in this one, and the tag line says it all:
She was born for this fight--no matter how many times it kills her.
Love. It.