(I couldn't resist the thread title. It's one of my very favorite Christmas songs.)
It's finally June. June means summer, my birthday, Father's Day, and (most importantly), it means only two more months until ANOTHER KIND OF DEAD finally releases! Can I get a WOOT!?
It also means that
THREE DAYS TO DEAD is available for purchase from Tantor Audio
. It's narrated by the fantastic Xe Sands (if you don't already follower her on Twitter, go follow her. It's okay, I'll wait....). I'll be posting an interview with her later in the month, so look out for that.
TDTD is currently 50% off at Tantor's site, so go order! They also gave the book a super-sexy cover!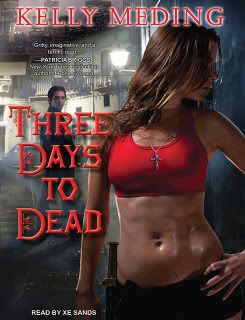 I like this version of Evy and Wyatt. It's true to the original cover, while still being original and sexy. For some reason, the model makes me think of Kate Beckinsale.
June is also Audiobooks Month, which I only learned yesterday. If you want to learn more, search the Twitter tag #JIAM. Help me celebrate the month by listening to an audiobook or two! I'll be doing a giveaway for audio copies of TDTD soon, so stay tuned.