One of my all-time favorite movies is Francis Ford Coppola's adaptation of "The Outsiders." It's a fabulous novel and a truly wonderful piece of cinema--especially the recently released extended version, which includes previously cut scenes and a new soundtrack.
I just watched this film a few weeks ago, for the bazillionth time, and was, as always, struck by the quality of acting from the cast of (then relatively unknown) actors. Including the portrayal of eldest brother Darryl Curtis, by Patrick Swayze. Equal parts angry caretaker and vulnerable sibling, he made the role his own.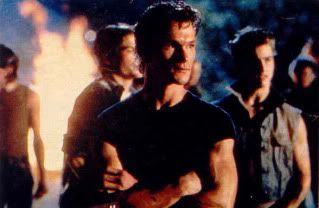 Patrick made his mark with a varied career: a guerrilla teen warrior in "Red Dawn," a southern gentleman in "North & South," the sexiest dance instructor ever in "Dirty Dancing," and most recently in the A&E series "The Beast." He made clay sculpting into an erotic art form in "Ghost," and he made cross-dressing look easy in "Too Wong Foo."
Even after his twenty-month struggle with pancreatic cancer, I was shocked to hear
Patrick passed away today
. Shocked and truly saddened.
Rest in Peace.
"It's amazing Molly. The love inside, you take it with you."
--Sam Wheat, "Ghost"