It's here! It's here! I'm a multi-published author!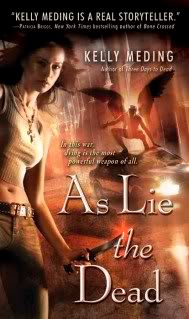 AS LIE THE DEAD is now available for purchase from Amazon, Borders, Barnes & Noble, Powell's, Book-A-Million, and other retailers nation-wide, in both paperback and e-book formats. It's a HUGE release day for urban fantasy, with new titles from Stacia Kane, Jeaniene Frost, Jeri Smith-Ready, Seressia Glass, Marjorie M. Liu, Kelley Armstrong, Jocelynn Drake, and Mark Del Franco, so I hope you've been saving those pennies!
Two new interviews are available for your perusal.
At
Larissa's Bookish Life
, I'm chatting about Urban Fantasy, writing, and my favorite characters. I'm also giving away a signed copy of AS LIE THE DEAD.
At
Writer's Grove
, I'm chatting about superheroes, comics, coffee versus tea, and vampire trends. Stop by and say hello!
I'll also be doing an event at Bitten by Books tomorrow, with a chance to win a $50 Amazon gift card.
RSVP
for extra contest entries!
***
I can't quite believe I'm moving in four days. The house is mostly packed, and I have a list. I'd be lost without my lists.