Are you excited yet? I'm excited. For two reasons. In seven days, AS LIE THE DEAD hits store shelves nationwide! And in eleven days, my cat and I are moving into our brand-new, beautiful apartment (with an office, I'm so happy to have an office!).
I have lots of stuff coming up in the next two weeks or so, including somethings going on right now. There's a fun
interview up at Book Lovers, Inc
, in which I'm answering questions about Evy, Wyatt, and their future shenanigans, so please stop by and ask me something. I'm giving away a signed copy of AS LIE THE DEAD to one lucky commenter!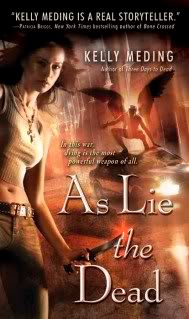 The ladies at Book Lovers,Inc, were also awesome enough to post an
ARC-review
of AS LIE THE DEAD. There are very minor spoilers, and it's a great review, so thank you!
The characters are wonderful and the story is full of revelations and has it's fair amount of action. A highly recommended read that will keep you on the edge of your seat and won't let you stop till you read the last page.
Okay, I think I've used quite enough exclamation points for one post. *g*
PUBLIC SERVICE ANNOUNCEMENT: Anyone who is waiting on a prize from me - everything is in the mail and should be arriving shortly.
Also, I'm happy to announce that Dreg City #3, ANOTHER KIND OF DEAD, has a release date. Brace yourselves. It hits stores July 26, 2011. I know it's a whole year from now, but I hope to write a couple of short stories in the interim to keep y'all jazzed for book three (I know I am, I just loooove the bad guy in this one).