As previously splashed all over Twitter yesterday, the back cover copy for ANOTHER KIND OF DEAD is up. You can finally find out (more or less) what Evy's next adventure is about!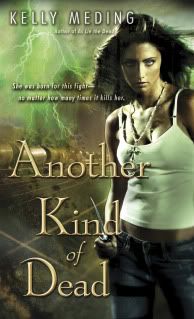 She can heal her own wounds. She can nail a monster to a wall. But there's one danger Evangeline Stone never saw coming.





Been there. Done that.

Evy Stone is a former Dreg Bounty Hunter who died and came back to life with some extraordinary powers. Now all but five people in the world think she is dead again, this time for good—immolated in a factory fire set specifically for her. Evy and Wyatt, her partner/lover/friend, can no longer trust their former allies, or even the highest echelons of the Triads—the army of fighters holding back from an unsuspecting public a tide of quarreling, otherworldly creatures—they can trust only each other. Because when the Triads raided a macabre, monster-filled lab of science experiments and hauled away the remnants, they failed to capture their creator: a brilliant, vampire-obsessed scientist with a wealth of powerful, anti-Dreg weaponry to trade for what he desires most of all—Evy Stone: alive and well, and the key to his ultimate experiment in mad science.
Evy and Wyatt are back, and they're facing a brand-new foe...who might not be so new, after all. *cue dramatic music*
What do think?