I saw this cover a few weeks ago, but now have a final version to show off. TRANCE is the first in my (what I'm currently referring to as) MetaWars series from Pocket, due October 25, 2011. I really love this cover--from the L.A. setting (palm trees!), to Trance's hair and powers.
Enjoy!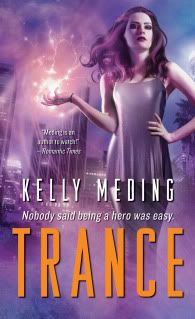 The cover copy:
Kelly Meding's war-ravaged Los Angeles is ground zero for the ultimate Meta human showdown in this sexy, action-packed new series.



Fifteen years ago, Teresa "Trance" West was a skilled telepath and a proud member of the Ranger Corps. But ever since the Rangers were inexplicably rendered powerless at the climax of the devastating Meta War, she's bounced from one dead-end job to another. Now her powers have reappeared just as mysteriously as they vanished— only they're completely transformed and more potent than ever. And they're threatening to destroy her.

Trance heads to Los Angeles to track down the surviving Rangers and discover who restored her powers—and why—but a phantom enemy is determined to kill them before they can reassemble. As they dodge his deadly attacks and come to terms with their new role as heroes, Trance and the rest of the team set out to annihilate the sinister madman . . . only to discover their own powers are his greatest weapons.
ETA: Artist is Don Sipley.