August 1st. I ask you, where on earth has the summer gone? Two months are down, and August will be half over before I come up for air. These next two weeks are packed full of fun things for me!
First up is
Shore Leave 34
this weekend, at the Hunt Valley Inn, near Baltimore, MD. This is my twelfth year going to this particular convention, and I'm excited to go again and see old friends. I'll once again be participating in the All Kinds of Writing Workshop on Saturday, as well as several other panels: Superheroes In Between, Self-Publishing and Small Press Publishing, Genre Mash-ups, and Pro-Writing Basics.
After Shore Leave, I'm home for two days before leaving for
Authors After Dark: New Orleans!
!!! I cannot wait for this! It's my first AAD, as well as my first trip to NOLA. I can't wait to catch up with some writer friends, meet some other authors, and get to chat personally with bloggers and fans. I already have my costume for the masquerade ball! It should be a lot of fun.
Once I get home, I have two guest posts going up for two different, awesome month-long events. The first I mentioned last month:
My post goes up August 13. Since I'm on the Romp team, Dahlia "Ember" Perkins will be interviewing her boss and mentor Teresa "Trance" West on what it's like to be a superhero, a team leader, and juggle a relationship.
The second guest post is for my second foray into: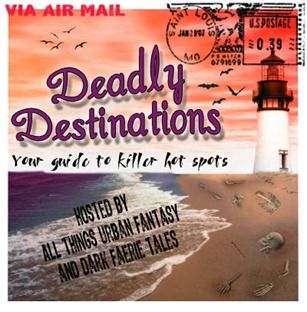 Last year, Milo Gant took you on a trip through Dreg City. This year, you're getting a bird's eye view of the Meta Wars world, lead by Ethan "Tempest" Swift and Marco "Onyx" Mendoza. They'll give you an overview of the post-War United States and warn you of the places to stay away from. Plus Ethan gets a little more face-time before his book, TEMPEST (MetaWars #3) comes out next year. The tour goes up on August 14th!