It's finally March! Only twenty-one days until spring! *happy dance* I am so ready for winter to be over. Warmth and sunshine and flowers, oh my! February went by both quickly and slowly. Slowly, I think, because of all the daggone snow. Quickly for every other reason.
As I flipped my calendar over to March, I realized I never posted the back cover copy for AS LIE THE DEAD. So here you go!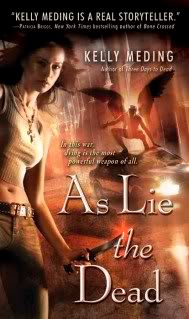 Evangeline Stone, a rogue bounty hunter, never asked for a world divided between darkness and light…
…or the power to die and live again in someone else's borrowed body. After a murder plot meant to take her out leaves an entire race of shapeshifters nearly extinct, Evy is gnawed by guilt. So when one of the few survivors of the slaughter enlists her aid, she feels duty-bound to help—even though protecting a frail, pregnant shifter is the last thing Evy needs, especially with the world going to hell around her.
Amid weres, Halfies, gremlins, vamps—and increasingly outgunned humans—a war for supremacy is brewing. With shifters demanding justice, her superiors desperate to control her, and an assassin on her trail, Evy discovers a horrifying conspiracy. And she may be the only person in the world who can stop it—unless, of course, her own side gets her first.