Countdown: Six more days until
ANOTHER KIND OF DEAD
hits shelves (and Kindles and Kobos and Nooks)!!!!
Some very awesome early reviews have been popping up around the blogosphere. This is definitely helping to keep my blood pressure down as the release date looms ever closer. It's been a year since your last new Dreg City adventure, and AKOD is a difficult book (emotionally, anyway). So it's wonderful to see some positive advance reviews!
A Book Obsession
(4 Butterflies) pretty much nails the complicated relationship between Evy and Wyatt:
Their love for one another is so incredibly strong, yet so very fragile as well. They need each other more than anything, yet neither one seems to know what to do with that fact.
From
The Spinecracker
(5 stars):
Around page 125 I sucked air and expelled horror and a little excitement.... exactly what I want from my UF books.
Smexy Books
gave me something nice to wake up to this morning (B+):
There is a deeper emotional aspect in here then the other books. Evy is tested in ways that would destroy a less indomitable person and your heart breaks for her. We are also given a more in depth look at the intricate relationships between the members of the Triad which paints a different picture than what we have thought.
In other news....
I have a guest post up at
Paranormal Haven
, where I discuss the villain from ANOTHER KIND OF DEAD, Walter Thackery. I also talk a little about other mad scientist characters in books and movies. Stop by and tell me about some mad scientists you enjoy!
Nocturne Romance Reads
has posted an interview with me, in which I discuss my inspiration for Dreg City, a day in the life of me, and my favorite guilty pleasure.
And finally...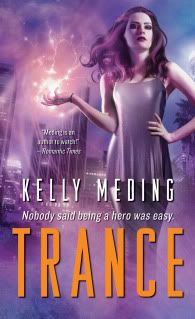 In my last week as the
Featured Author at Drey's Library
, I wanted to offer something a little bit different for you guys. So I've posted a snippet from my upcoming Pocket book
TRANCE
(MetaWars #1). If you're curious to see a little bit more about this new series, check it out and let me know what you think!