I forgot to do this post last week (for various reasons), and even though I wanted to get into the habit of doing these on Wednesday's, I won't be around online much tomorrow. So I'm doing it now.
Yay?
Item the First
: It's the day after Labor Day, which for anyone who grew up in my area, means summer is officially over. Even though beach-going tourists will continue to flock here well into October, summer is finished. Kaput. And it's sad. I don't feel as though I accomplished much this summer. I wrote a little. I read a lot. But I didn't really go anywhere or do much of anything. Maybe autumn will be more exciting?
Item the Second
: Author Jim C. Hines has a fabulous new post up on his blog about
sexism in the publishing industry
. I won't even try to summarize it, but it's an excellent read.
Item the Third
: A friend sent me something really awesome, because she saw it in a store and it made her think of Evy and the necklace she wears on the Dreg City book covers. My first real fan gift! Isn't it gorgeous?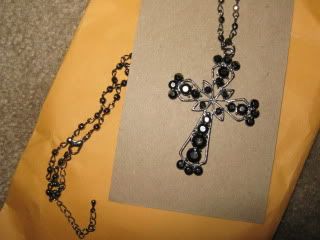 Item the Fourth
: I went on a bit of an historical romance reading frenzy this weekend. Polished off PLEASURE ME by Monica Burns, and JUST LIKE HEAVEN and WHAT HAPPENS IN LONDON by Julia Quinn. Loved all three of them, and I definitely need to find more Quinn books. She just tells these wonderful, fun and emotionally satisfying stories.
Item the Fifth
: Sometime later in the week, I'll be on Twitter tweeting lines from TRANCE, using the hashtag #Trance. I'm not sure which night, so stay tuned! And don't forget, the MetaWars start next month! Squee!