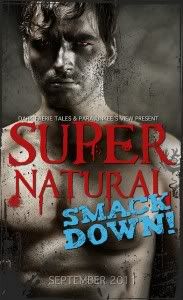 You may have heard that Dark Faerie Tales and Parajunkee's View are hosting another Supernatural Smackdown on their respective sites, and this year I'm participating. Well, I'm not, but the heroine of TRANCE, Teresa West, is!
Check out the match
and
see her opponent
, and don't forget to vote! Simon & Schuster is generously giving away copies of TRANCE to five winners!
Let's help a superhero kick butt!