GIVEAWAY IS CLOSED!
Real life has been a little exhausting/hectic lately, so my apologies in taking so long to get this up. But, as previously announced in a few places, I have in my hands a couple of TRANCE ARC's, and they are yours for the taking!
I'm giving away three signed ARC's, as well as a TRANCE cover flat, so you have the text and the pretty!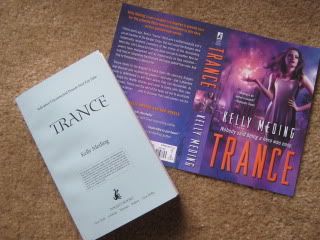 Such a lovely match.
So how do you enter? Easy. The MetaWars series is about superheroes, right? So to enter this giveaway, leave a comment on this post telling me the name of your favorite superhero. It can be from film, comics, television, etc... It could be Peter from the TV show "Heroes." It could be Hit Girl from the movie "Kick Ass." It could be Dean Cain's version of Superman, or the Golden Age version of the Flash.
Tell me who!
The giveaway is open until September 30th, and I'll use a randomizer to select three winners. Winners will be announced here the first of October. So spread the word! Be the one of the first folks to get a sneak peek at TRANCE before it releases October 25th!
Ready?
Go!