It's finally here. October. The last Countdown Contest leading up the wide release of THREE DAYS TO DEAD. I can't believe I started these in April. The summer has flown by, and so has autumn. Release day will be here before you know it!
CONTEST CLOSED!!!
In honor of it being nearly Halloween, this contest has a Monster theme. I'm not doing anything flashy or too hard on my brain (that other, Super Seekrit Promo stuff has my brain a little wonked out already, but it's worth it!). So...wanna see the contest prizes?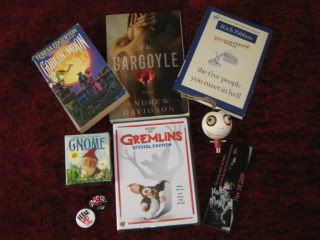 It's a mixed bag of items that are in some way related to the monsters in the Dreg City world. There are three books: The Gargoyle (Andrew Davidson), Goblin Moon (Teresa Edgerton), and The Five People You Meet in Hell (a parody, by Rich Pablum). There is also a DVD of Gremlins, a Wee Little Garden Gnome, a vampire ornament, and some swaggish stuff: a signed bookmark and two buttons (one is anti-Dreg, the other anti-Triad).
A winner will be randomly selected from the comments section, and you get everything in the picture above.
So what's the contest part?
In honor of Halloween, I want to know your top Three Monsters. They can be movie monsters or book monsters, real people or imaginary creatures, unkillable or very mortal. Define "monster" in your own way, but tell me who they are!
I'll start off with my top three:
1. Freddy Krueger, from the Nightmare on Elm Street films.
2. General Woundwort, from
Watership Down
, by Richard Adams.
3. Randall Flagg, from Stephen King's
The Stand
.
What are yours?
Contest closes midnight on Thursday, October 29th!