This has been a topsy-turvy week, I must say. I've been working extra hours at the day job, because one of the managers is on vacation until tomorrow, so all I've wanted to do when I come home is veg. Which I have, for the most part. But I've also been doing book stuff--scheduling some guest blogs, developing that "thing" I was teasing about last week, and doing a final read-through of AS LIE THE DEAD.
Yes, book two is now revised and back with my lovely editor. One of the benefits of not having read it all the way through in many months is fresh eyes. I was able to "see" little inconsistencies I hadn't noticed. I was also able to add little world-building details I hadn't considered during the first drafts. All in all, it's a much stronger book (as it should be).
Remember those short stories I've been working on? Good things have developed. More on that later. *g*
I also had the great fortune to score an ARC of Kelly Gay's THE BETTER PART OF DARKNESS, which releases November 24 from Pocket. Order it. Now. And I'm not just saying that. Her alt-Atlanta is so unique, and I love her heroine, Charlie. How often does UF give us a protag who's a single mom? There's so much I'd like to say, but won't for fear of spoilers.
Also, I haz swag!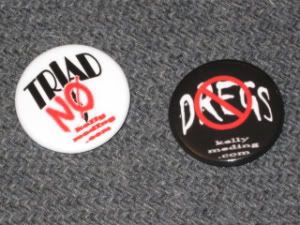 They are 1.25" buttons, designed by a super-cool moderator at AbsoluteWrite. For clarity, Dregs are the city's non-humans, and the Triads are the folks who hunt/kill them. So yeah, they mostly don't like each other.
I'm not sure how I'll use them yet. We shall see...