Huge thanks to everyone to left a comment in the
Big Birthday Giveaway
! It was great to see such an amazing response, so thank you, thank you!
The 3 winners of the signed copy of THREE DAYS TO DEAD, a bookmark, two Dreg/Triad pins, and a "Note to Self" mini-notebook are:
unseelieme
RobinK
Marguerite Butler
Congrats!
Aaaaand, the Grand Prize Winner of all this stuff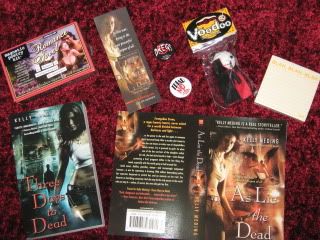 is... *drumroll*
Jessica!
Congrats! To all the winners, please email your postal address to mail(at)kellymeding.com.
Thanks so much to everyone who participated!