Long-time followers of this blog know I had a pretty rough couple of months this past winter. 2010 wasn't going well for a while. Then my kitty got better. And then, at the end of April, I got the awesome news I can now officially share with everyone.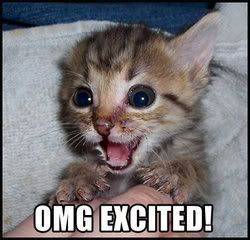 My awesome editor at Bantam bought two more Dreg City books! Yes, ladies and gents (and everyone else), the Dreg City series is now officially four books long. Evy gets to share a few more adventures with y'all. And I get to work with my editor and all the other fantastic people at Bantam again! Win!
The new books are tentatively titled
Another Kind of Dead
and
Wrong Side of Dead
. While I was fortunate that the first two titles in the series didn't change, I know there's always a chance these might so don't be surprised if they do.
For more details, there's an awesome write-up on
Whitney Sullivan's Romantic Times blog
. I didn't reveal any actual spoilers, but did drop a few hints as to what to expect as the series progresses, so please check it out!
Big thanks must go to my amazing agent. They say that a good agent is worth their weight in gold, and I have a great agent who is working on more fantastic things for me as I write this.
And of course, a huge round of thanks to you, Dear Readers. Without your support and your willingness to give Evy's story a shot, I couldn't type this post. You allow me to continue playing in her world for a while longer. So THANK YOU!!!!!