ETA: GIVEAWAY CLOSED
In less than four hours, I officially leave my twenties behind and enter my thirties. And I'm way more okay with that than I thought I'd be. When I think back to where I was ten years ago, as I entered my twenties, it's boggling to see how far I've come.
Since I turned twenty, I....
lived in four different states.
interned for John Wells Productions, in California.
graduated college pretty high in my class.
wrote ten novels.
wrote three full-length screenplays.
wrote two television episode scripts.
wrote a LOT of fanfiction.
welcomed my niece into the world.
made some amazing new friends.
lost my paternal grandmother.
said goodbye to two kitties.
bought my first car all on my own.
signed with a wonderful agent.
sold six novels.
sold foreign rights to two of those novels.
realized my dream of being a published author.
There are a lot of in-between things I'm missing, for sure. A lot of milestones, heartbreak, excitement, and boredom. There are things I haven't done yet and am sad to be turning thirty without those experiences. But I have time. And I came to a very Zen-like conclusion the other day: my twenties were about work, and my thirties will be about play.
I want to travel more. I want meet that someone special. I want to experiment more with my cooking. I want to learn a foreign language (my Spanish is terrible, and Pig Latin doesn't count).
So...this post has been all about me so far. Time to make it all about you, my loyal blog followers and fans. Talk to me. In the comments, I want you to tell me one thing you want to do if you were granted the wish. You'd be given the money, the access, the opportunity to do one cool thing (realistically, no "I want to grow six inches taller" or "I want to colonize the moon").
Do you want the chance to meet a famous person? Do you want to take a bike tour of Italy? Do you want a week-long Alaskan cruise with your significant other? Tell me a little dream in the comments section, and I'll enter you in the giveaway.
What am I giving away?
Glad you asked.
Three lucky winners will each get a signed copy of THREE DAYS TO DEAD, a bookmark, two Dreg/Triad pins, and a "Note to Self" mini-notebook.
One Grand Prize winner will get this loot: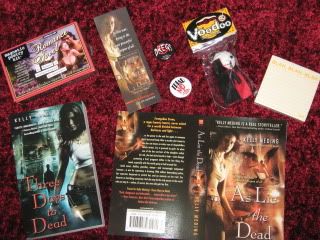 What's in the photo: a signed copy of THREE DAYS TO DEAD, a bookmark, two Dreg/Triad buttons, a "Blah, Blah, Blah" sticky note pad, Romance Novel magnetic poetry, a little vampire VooDoo doll keychain, and an AS LIE THE DEAD cover flat (signed or un-signed, as the winner prefers).
The giveaway is open until 10pm Eastern, Monday, June 28. I will randomly select and announce the winners on Tuesday, June 29.
Remember, all you have to do is leave a comment telling me something you really want to do, given the chance. What's your fun wish?