The next part of the 2K Event is here! We had a great time following along with the
Quiz
answers last week, and this week we have something new for you.
But first, don't forget there's a $100 Amazon gift card GRAND PRIZE on the line. Rules for entering
can be found here
, so be sure to enter! It's easy!
Today's part of the Event is extra-fun. Charlie Madigan, heroine of Kelly Gay's THE BETTER PART OF DARKNESS, has been interviewed by none other than the heroine of THREE DAYS TO DEAD, Evangeline Stone. These ladies have a few interesting things in common, but are also very different. And over at Kelly Gay's blog,
Charlie has interviewed Evy
.
So read along, and be sure to leave a comment or question for Charlie. Why? PRIZES.
Every comment is another automatic entry into the GRAND PRIZE drawing, to be held November 23rd.
I will also hold a random drawing and one lucky commentor will win these exciting prizes: a signed copy of THREE DAYS TO DEAD, a signed copy of THE BETTER PART OF DARKNESS, and a third, surprise book. Three books! The same prize package is being offered over at the Evy interview. Two chances to win! Two additional entries into the GRAND PRIZE drawing!
Exciting, isn't it?
The contest is open until Wednesday, November 18th, and the winners will be announced on the 19th. Good luck and happy commenting!
#*#*#*#*#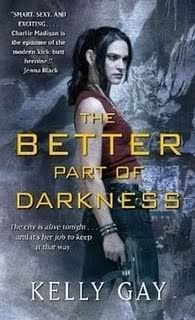 *Evy settles in and checks her notes*
Evy
: So…you died, too, huh?
Charlie
: Yeah. Traumatic experience, and it hurts like hell. But I have to say, I couldn't imagine waking up in a totally different body. Now that's insane. Dying didn't change me on the outside, but it definitely did a number on the inside. There's a war going on inside me. Good. Evil. Really raw stuff. And it feels alien, like it has nothing to do with me. The nightmares are really starting to mess with me . . .
Evy
: In your world people actually know about the existence of Dreg—er, of, um, non-humans. You don't have to be all secretive about it. What's that like?
Charlie
: I can only describe it as normal. The Revelation (what we call the discovery of two alternate dimensions, Elysia and Charbydon) happened back when I was a teen. It took years for things to calm down, and new laws and governing bodies to be put into place, but now it's business as usual. And no worries on the Dreg reference – we have names for them, too, most of which I use to piss off particular people... I'm sure you can appreciate that. J But the politically correct term we use is off-worlders. Off-worlders go to school, work in the public and private sectors, just like any human would. It's once you go Underground and into the criminal population that you're reminded just how different the races really are.
Evy
: Your partner's non-human—a siren, right? That boggles the mind. Hot or not, how'd you get stuck with him?
Charlie
: Yeah, Hank's a siren. You can't mistake them. If you suddenly find yourself face first into a utility pole, you know you just walked past a siren. They kind of grab your attention that way. After about a decade most of us are used to them, though. It'd be a different story if our resident genius, Titus Mott, hadn't invented the voice-mod to alter the seductive power of their voices… *shudders* Imagine men, women, kids, animals, you name it, all drawn to Hank like he's some kind of gigantic frosted Cinnabun on a cold winter day. . . (Sorry, didn't eat breakfast. Again.)
So, anyway, as far as working together, we didn't have a choice. But it was necessary -- all part of integrating and learning about our new arrivals. You know, as much shit as I give Hank, he's got my back 110%. I might not have a clue why he left Elysia to come here -- everyone has their own reasons for immigrating -- but I trust him with my life. And please, please, please, Evy, don't tell him that, because just about everything goes to his head. And once he's got the slightest dirt on you, he uses it to his full advantage and gets so obnoxious I just want to shoot him.
Evy
: Talk to me about the other hot guy in your life, your ex-husband Will. What's up with him?
Charlie
: You mean the guy I want to hug and strangle at the same time? I swear that man makes my life CRAZY. We've been divorced for almost a year now, and I'm still not over him completely. I mean, how do you turn off eleven years of loving someone in a couple months? Sometimes I don't know what to do about him. He wants to make amends, wants to start over, but there are some serious trust issues that I'm not sure I can overcome. But, god, I just . . . He makes my chest hurt. Let's move on, okay, Evy?
Evy
: Okay, so you've got an eleven-year old daughter, which is really awesome. But you're a paranormal cop, and you're constantly in danger on the job. Don't you ever worry about making your kid an orphan? Although there is the ex-husband, so let me rephrase. Don't you ever worry about making your kid motherless? Because it sounds like you're a good mom, and I don't get to personally meet a lot of those.
Charlie
: Well, thanks for saying that. To answer: Yes. I worry all the time. I think any parent, no matter what they do, worries about suddenly leaving their kid behind. But let me explain something. I feel I'm safer in my job as an officer than being oblivious to the dangers out there in some other job. If I know the dangers, the constant ebb and flow of crime in this city, then I can protect my family and myself better. I don't know, I guess it stems from losing my brother to a violent crime. Ever since then I've had this deep need to look-out for my family, and the whole city, and it just makes me feel more secure myself. Some would say I'm safer at my job than I'd be working in the convenience store or at the bank. See, in my line of work, I have weapons. I have training. I have a fighting chance. That might not make sense to a lot of people, but talk to any ITF officer or beat cop with kids, or women in the military divisions and they'll tell you the same thing. There are hundreds of thousands of us out there. This is how we feel the safest and the best able to protect our families and homes.
My kid gets what I do and why I do it, and I think if you ask her, she'd say she's proud of me. A second later, she might say that I need to raise her 'paltry' allowance, but hey…what can you do, right?
Evy
: What do you do to unwind after a hard day beating up the bad guys? I used to blow off steam at clubs on my nights off, but I guess with a kid at home that's an option anymore. So do you build puzzles? Do yoga? Read dirty books? Wish your ex was home so you could blow off steam with him in bed?
Charlie
: A cold beer works wonders. A cold beer with steaks on the grill works even better. God, I knew I should've eaten breakfast! This whole death experience has really made me hungry. My metabolism must be stuck on overdrive or something. Might have to talk to Titus about that. Um, where were we? Oh, yeah… If I've had a really shitty day where food and drink won't cut it, then I run. I run until my lungs burn and my legs turn to jelly. Or I go down to the station and spar with Hank. He loves a good beating.
Evy
: *snorts laughter* Thanks for stopping by, Charlie.